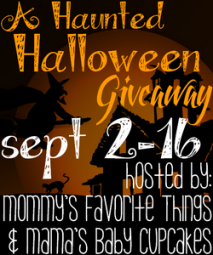 Hosted By:
Mommy's Favorite Things
&
Mama's Baby Cupcakes
"A Haunted Halloween"
This Blog Hop giveaway is going to be items that are meant for Halloween. Anything that has to do with Halloween. From decor and pumpkin carving kits to candy and costumes. Whatever you would use for the Halloween season. There are lots of options for finding a prize for this wonderful event. Your only mission is to find the perfect prize pack for your blog!
Because this is a blog hop, each blog will be responsible for securing their own prize on their own blog. Each prize must be a Minimum of $25. The Prize can be sponsored OR you can self sponsor. Each blog can have more than 1 winner, but each winner must win at least $25 in prizes.
Joining this Blog Hop is FREE as long as you share the announcement in some way. It takes 2 seconds to do this!! Tweet, pin, or share on FB.
When: 9/2-9/16 (plenty of time for winners to get their prize BEFORE the holiday)
Who: Anybody with a blog can sign up for this one!
Sign ups close 8/26
Add yourself to the Linky Below! You MUST share this announcement in order to participate in this hop.
You can also join the Facebook Group for our events here