Thank you Ariel for the wrap to help with this review
Ariel is a single mother of four children who decided to sell It Works! after seeing friends and family members sell and talk about it. Curiosity got the best of her and she began selling as well!
The
It Works body wrap
is a all natural wrap that works to target the areas YOU choose in a 45-minute application. The body wrap is approximately 21″ long and 11″ wide at it's widest point. Using the most advanced nutrition, every It Works ingredient can be considered food for the skin, allowing it to do what it wants and needs on its own. The natural and active ingredients in the applicator target the processes of skin rejuvenation to produce multifaceted results inside and out of the body. You'll even feel it working usually only minutes after you put it on.
When Ariel asked me if I wanted to review the It Works Wrap, I was excited. Just like every other person that hasn't tried this wrap, I was skeptical. How could I simply wrap something around my stomach and it actually work? I, being a mother of 2, have that "saggy mom pooch" on the bottom of my tummy and I would be thrilled if the It Works Wrap could shrink it for me. So I put it to the test! Ariel provided me with the wrap and the shipping was fast!
To use the wrap, Ariel instructed me to take a hot shower without using soaps or lotions. This allows the wrap lotion to absorb into the pores much easier. I was also told to drink half of my body weight in water in ounces. You can wear the wrap for as little as 45 minutes to as much as overnight.
I used the wrap from 12 noon to 4pm. After applying the wrap, I noticed it was hard to keep it in place so I wore a tight fitting shirt over it to help keep in place. It does have a minty smell to it but it's not too strong. I could feel my stomach get very cold at random times. From my front view I didn't see a lot of difference but noticed my stretch marks didn't feel as deep and my skin felt a bit smoother. From the side view there is a noticeable difference.
The visible result of the wrap is often immediate, although it does fluctuate per person and depends on how much water was consumed during the process. To achieve maximum results, it is recommended to leave the wrap on for more than a few hours and drink lots of water. It is also recommended to use plastic wrap to keep the body applicator snug and in place. The full results are usually realized with 3-4 days following the procedure. The results of one wrap can last many months, depending on if you continue to maintain a healthy lifestyle of course.
Ariel is fast at responding and very helpful with questions! She also sells

It Works

Greens

, which is a delicious orange-flavored, alkalizing drink powder with the nutritional value of 8+ servings of fruits and vegetables in each serving.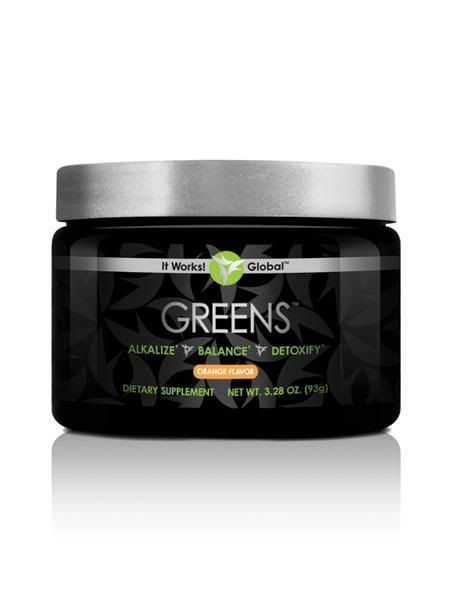 It Works Greens blends 38 herbs and nutrient-rich "superfoods" to provide vitamins, minerals, phytonutrients, and enzymes in their naturally-occurring, bio-active, bio-available form.
Detoxifying, alkalizing drink powder

Promotes pH balance within the body

38 herbs & nutrient-rich "superfoods"

Equivalent of 8+ servings of fruits and vegetables in each serving
Greens is a pleasant tasting, orange-flavored powder. Simply add to water or juice.
Made with Natural ingredients.
To buy an It Works Wrap, It Works Greens or learn how to be a distributor and make money in the comfort of your own home like Ariel does, Contact Ariel at

ArielWrapsYouUp or Email her at wrappedbyariel@gmail.com
Be sure to tell her that Lakeon from Mama's Baby Cupcakes sent you!