Coming from UndressedSkeleton
Banana-Egg Pancake
Ingredients:
1 Scoop Vanilla Whey Protein
1 Extra Ripe Large Banana
2 Egg Whites
1 Egg
1 Tsp Dark Chocolate Chunk
Instructions:
Mash banana.

Stir in protein powder and dark chocolate chunks. Mix together.

Cook like any other pancake! The protein powder makes them thick, unlike my other banana-egg pancake recipes!
Coming from UndressedSkeleton
Lemon Garlic Grilled Tilapia
Ingredients:
Fish Fillets
Lemon Juice
Minced Garlic
Water
Instructions:
Defrost the fillets for six hours in the refrigerator. Once the tilapia was defrosted marinate the fillets in garlic water and lemon juice for five hours. For the garlic water, mix together 1/4 cup of minced garlic with one cup water. The lemon juice was 1/2 cup freshly squeezed lemon.
Preheat the indoor grill to 425 degrees and spray it with cooking spray. Cook each fillet for 3 minutes on each side.
Ingredients:
7 c. diced potatoes (about 4 medium)
1 c. diced onion (about 1 medium)
1 large carrot, chopped
2 c. ham, diced
5. c. hot water
1 Knorr Chicken Bullion cube (extra large size that
makes 1 quart broth or 4 small cubes that make 1 cup each)
1 c. 2% milk
1/2 c. sour cream
Salt and Pepper to taste
Instructions:
Add diced potatoes, onion, carrot, and ham to a crock pot. Dissolve chicken bullion in 5 cups hot water, then add this to the crock pot also. Cook on low 7 hours, or high 3 hours. Then add milk and sour cream. Stir and cook an additional 15 minutes. Add salt and pepper to taste. Makes twelve 1-cup servings.
If you'd like a thicker soup, just before adding milk and sour cream, remove 2-3 cups of the potatoes and slightly mash, then return the mashed mixture to the crock pot.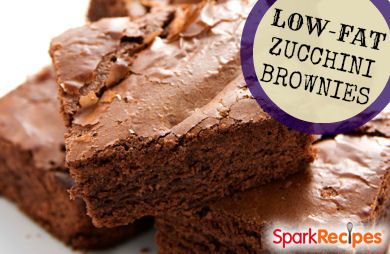 Coming from Sparkpeople
Zucchini Brownies
Ingredients:
1/2 cup applesauce




2 small or medium bananas mashed




1 1/2 cup sugar




2 tsp. vanilla extract




1/2 cup cocoa powder


1 1/2 tsp.

baking

soda


1/2 tsp salt




2 cups finely shredded zucchini




2 cups all purpose flour




1/2 cup walnut pieces
Instructions:
Preheat oven to 350 degrees F. Grease and flour an 9x13 inch baking pan.
In a large bowl, mix together the applesauce, mashed bananas and sugar. Add vanilla and cocoa and mix together. Then add baking soda, salt, and zucchini and mix together. Add flour and walnuts and mix together. Spread evenly into a prepared pan. Bake for 25 minutes until brownies spring back when gently touched.